" Family, the most important thing "
Hermanos Martín Sánchez S.L. is a family business, deeply committed to the values inherited from a humble family, with a muleteer father and a mother passionate about work well done, both with roots in Castile.
In the 1950s, Venancio Martín, a mule driver by profession, was already traveling through the Castile countryside on the back of a mule with his father and his brother, offering pork products that they already made.
Following his footsteps, his children created La Encina C.B in 1999 and over time the current company, Jamones y Embutidos Hermanos Martín Sánchez S.L, was established, with continuous development and constant improvement in the commitment to service and quality, located in the industrial heart of Guijuelo, birthplace of the Iberian meat products.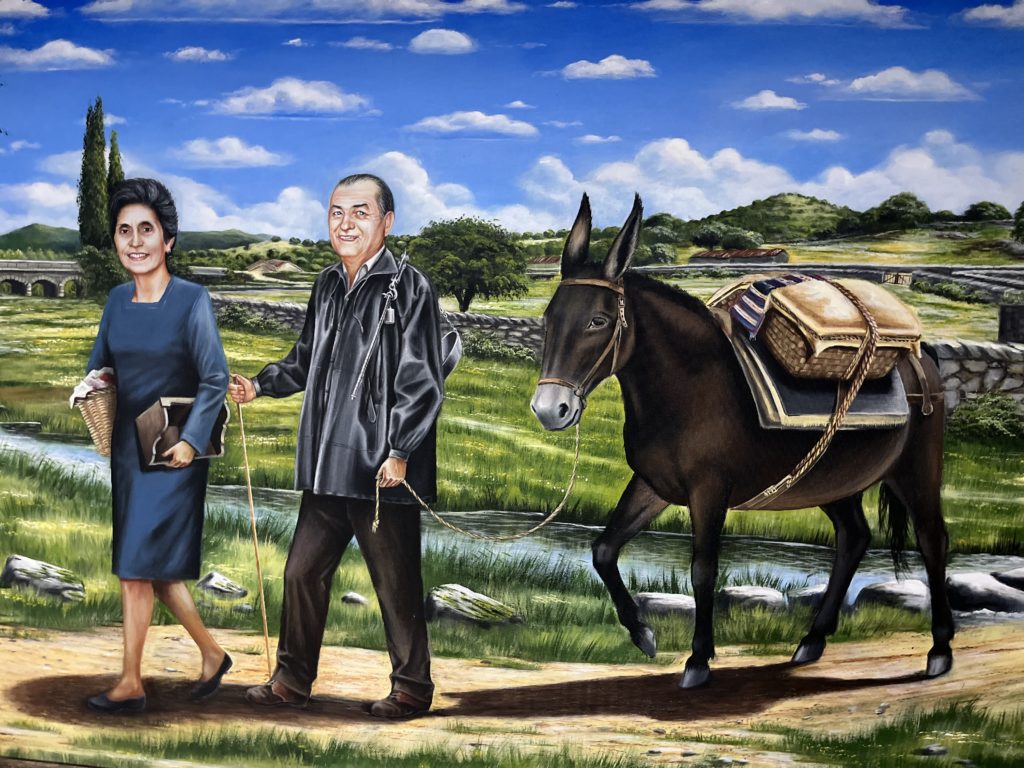 You will never be wrong by doing the right thing.
Our main objective is to provide exceptional service, in order to achieve the greatest goal that each and every one of our clients has the peace of mind of knowing that we are a company they can trust.
We have the trust of Wholesalers, Hoteliers and Gourmet Distributors. Each and every one of them is part of this Great Family, established in order to provide service to each one of them according to their own needs.
Years of experience on our backs
There is no second chance to make a first impression.
What's most important at Jamones y Embutidos Hermanos Martín Sánchez s.l. is none other than providing utmost customer service. This action begins with personalized attention, from one client to the next, giving the best of ourselves.
The guarantee of commitment is given by the peace of mind of knowing that we produce top quality products with all the enthusiasm and know-how, gluten and lactose-free, in a completely artisanal way, following the Traditional Family Recipe (TRF), while also looking after the environment by the use of renewable energy in our manufacturing processes, continually investing in improvements and innovation to always offer the best product. We have firm commitments with suppliers that comply with Animal Welfare Certificates.
Our products, both processed cured meats and packaged and frozen meats, meet demanding quality standards from their origin, endorsed by Iberian Certifying Companies and maintaining their traceability to the final consumer.
What matters the most to us
We care about providing our clients with a calm and worry-free experience. Backed by a track record of excellence and commitment to quality.
We build relationships based on trust. We strive to offer high-quality products, backed by recognized certifications and rigorous standards.
Fundamental part of our philosophy. We provide direct and personalized treatment. We value long-term relationships and individual projection.
As long as there are no solutions, explanations are unnecessary
Natural drying room in Santibañez de Béjar
Natural drying room in the industrial sector III of Guijuelo
Frozen conservation chamber in the industrial sector III of Guijuelo
Our Ham and Cured Meats Factory, where we produce our products under the strictest quality and food hygiene controls, is located in the Guijuelo Agri-Food Estate, a privileged place located between La Sierra de Gredos, La Sierra de Francia and La Sierra de Béjar , which is why it becomes the most important point for the manufacture of Iberian meat in the entire geography of Spain due to its meteorological conditions.